Choosing your CPA subjects can be tricky, and at KnowledgeEquity we often get asked:

'what order should I do my CPA subjects in?' and 'what CPA subject electives should I choose?', so we hope this helps.

CPA Australia have changed the Taxation offering in 2019. There are now two taxation subjects, "Australia Taxation" and "Australia Taxation – Advanced".  Read Russell's detailed blog on the changes and what it means for you.

__________________________________________________________________________________

Most candidates start the CPA Program with the Ethics & Governance subject as this provides a good background to the profession and the professional, ethical and governance issues facing the professional accountant. However, many are unsure on what CPA subjects to do next.

Our advice on subject selection is simple – do the subjects that are likely to assist with your future career direction. Getting your accreditation as a CPA is critical but you should have also mapped out some idea of where your next career steps will likely be.

For instance if you intend to pursue a career in Public Practice, then in addition to the core subjects, the selection of elective subjects is almost ready made for you in that Advanced Audit and Assurance and Australia Taxation – Advanced would be the best fit. If you are more interested in working inside a business and performing a broader range of tasks, you will focus more closely on managerial type subjects such as Contemporary Business Issues.

CPA subjects order and combination

Public Practice or Technical Accountant versus Consultant or Adviser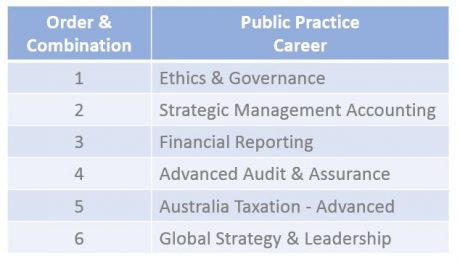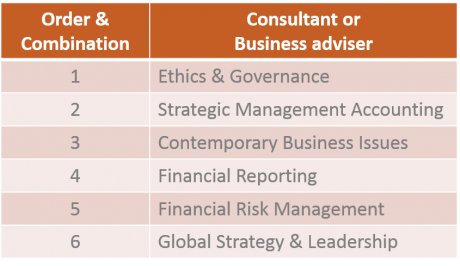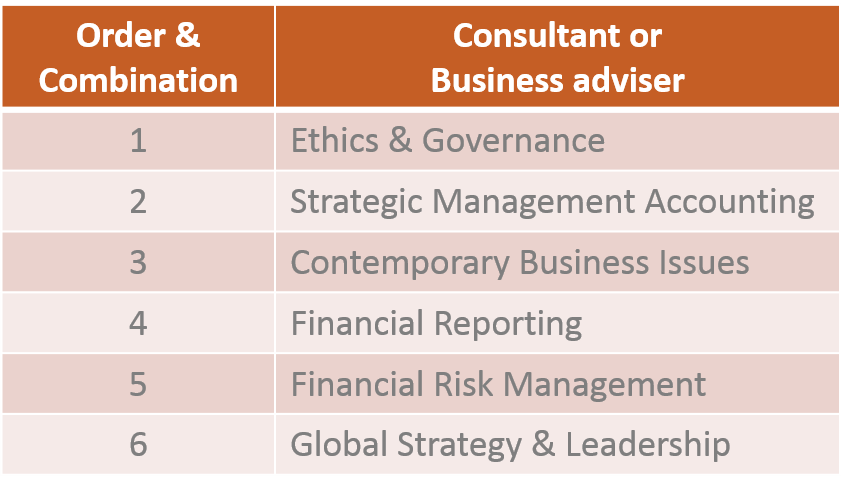 CPA Subject choice tips

Don't leave FR until last – even though it is really tough. If you get stuck on FR you want to find out earlier rather than later, so you can decide whether to continue with your studies.
Don't do AAA before FR – Audit involves careful consideration of financial reporting and standards, so you need FR knowledge to do this well.
If you are not sure of your career plans then choose subjects that interest you. Why? Because if you are motivated this generally translates into good results.
CPA subject electives

If you have not completed Auditing and Taxation (Australia or local variant) at an under graduate level, these two subjects will be compulsory.

In reality there are only six combinations of electives: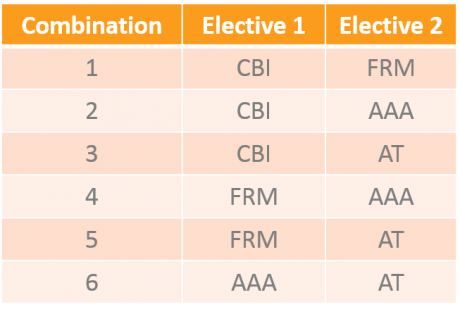 If your preference is for conceptual subjects then combination 1 is ideal (CBI and FRM) and if your preference is for theoretical subjects (that is, subjects that have frameworks, standards, law / legislation) then combination 6 is better (AAA and Australia Taxation or Australia Taxation – Advanced).

There is no magical formula but by completing subjects in a logical order it can mean that you are better prepared or have the right background knowledge.

Doing Two CPA Subjects or more in a Semester

High study workloads coupled with hard subject combinations often leads to poor results. So at Knowledge Equity do not recommend this for most students. However, people do ask us for advice here – so if you are going to try it, here are some tips to provide greater chances of success and to protect your sanity.

Avoid Australia Taxation with another subject as there is a significant volume of study material (please note that the Taxation offering has been changed for 2019 – Learn more in this blog), especially if it has been some time since you completed taxation at university level.
Avoid Financial Reporting with another subject – it is also very long, very difficult, and requires significant effort.
If you are working full time you will find it very difficult to do two subjects well unless you are extremely disciplined.

Strategic Management Accounting goes well with Ethics & Governance, or Contemporary Business Issues or Financial Risk Management. If you are really disciplined and organised, then you may consider Financial Reporting and Advanced Audit and Assurance together.

Try to ensure that you have allowed yourself sufficient time between exam dates (perhaps schedule one exam at the start of the exam week and the other exam at the end). You will need to be disciplined with your study technique to ensure that you are allocated an adequate amount of study time to both subjects.

Some other things to keep in mind are

Try not to use previous semester CPA pass rates as a factor to inform your subject selection.
Try not to be influenced by the opinions of others on the difficulty levels of subjects. This is as what one person finds difficult, another person might find easy.
Length of the study guide (for instance number of modules or number of pages) is not always relevant. Some people find it much easier to master technical, rule based content – while others prefer conceptual and narrative based reading.
Some useful links to other sites include the CPA Australia CPA Program discussion on CPA subjects structure and requirements and whirlpool discussion forums.
Regards,
Courtney