KnowledgEquity has now enabled closed captions on its videos. Captioning is a process that transcribes audio into text, and time-coding the text to synchronize with the audio of a video. Once they are turned on, captions are located at the bottom of a video screen. Check out the video below to see it in action.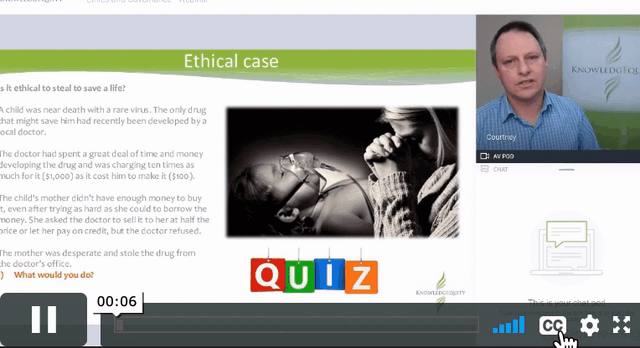 In addition to being extremely useful for students with hearing impairment, captioning improves comprehension and retention of media content for all students. Captions helps students more easily maintain their concentration. It also helps students to focus on and remember the information more easily. With the increasing popularity of mobile devices, you may be in environments where access to the audio is limited. Captioning allows students to continue to study in sound-sensitive environments, whether they are in the library, late at night or on a noisy bus.
Remember you can also use the settings to change the speed of the videos too, slowing down the video can help while taking written notes! You can also change the video quality – lower resolutions, will use less of your phones data and load quicker.
I hope this helps and best of luck with your studies,
Matt and the KnowledgEquity Team
KnowledgEquity is the Official Learning Partner of CPA Australia.