CPA MYOL
CPA MYOL is a valuable resource for downloading resources from CPA Australia and you can also use the CPA MYOL forums to ask the experts questions about tricky areas.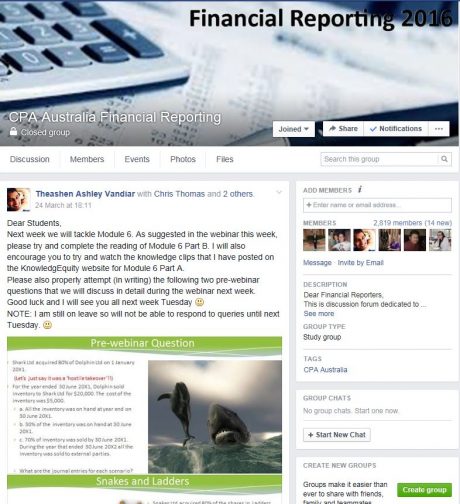 CPA subject technical questions
Did you know you can also ask questions in the following Facebook forums to receive guidance from other candidates and also expert responses from our staff. The benefit of this approach compared to using the CPA MYOL forums is that you receive prompt replies and other students can easily see your answers and ask additional questions linked to the topic. So, the learning is shared.
CPA Australia Facebook groups
These groups are set up by students or KnowledgEquity and are designed for anyone to be able to ask questions, post questions, answer other people's questions or post articles or other relevant information to the subject. It's even OK to just ask each other how you are going and to offer the support that everyone needs.
What do you want?
Please comment below if you have an opinion or preference about whether, for technical questions on the study guides, you prefer to use CPA MYOL, Facebook groups or would like KnowledgEquity to set up our own forum. We aren't committing to anything yet because we're keen to find out your thoughts and see what CPA candidates want.
Here are the relevant CPA Facebook groups that you can join to ask the equivalent of a CPA MYOL forum query:
CPA Australia Core Subjects
CPA Australia Ethics & Governance:
https://www.facebook.com/groups/542160082565785/
CPA Australia Financial Reporting:
https://www.facebook.com/groups/633860550057616/
CPA Australia Strategic Management Accounting:
https://www.facebook.com/groups/523267211164579/
CPA Australia Global Strategy & Leadership:
https://www.facebook.com/groups/154626024894411/
CPA Australia Elective Subjects
CPA Australia Advanced Audit and Assurance
https://www.facebook.com/groups/1513209895642717/
CPA Australia Advanced Taxation
https://www.facebook.com/groups/239662652883902/
CPA Australia Contemporary Business Issues
https://www.facebook.com/groups/662788133771273/
CPA Australia Financial Risk Management
https://www.facebook.com/groups/474315322766027/
CPA Australia Financial Planning Fundamentals
https://www.facebook.com/groups/474315322766027/
 Tuition Support for your CPA subjects
I hope you found this useful. Please check out our Full Focus, Exam Ready, Revision Plus support resources which include practice exams, live webinars, over 50 video tutorials and practice quizzes.
Regards, Courtney Clowes
KnowledgEquity
We are an independent provider of support resources for your CPA studies, and have highly qualified CPAs creating and delivering innovative content including live webinars, video tutorials, PDF resources to download and practice exams.
Courtney Clowes CPA and Russell Clowes CPA are the directors and have many years experience teaching the CPA program, authoring CPA study guide materials and providing expert forum responses to CPA students.
This clip outlines what we do and why we think our CPA support resources will be helpful for you, and you will be impressed by our low CPA Tuition Fees:
Sign up to CPA Assist – 10 hours of free content in your chosen subject to get you started. You can view our content and you will be convinced that our support resources for your CPA studies will be a valuable way to improve your results. Click the button below and select your CPA subject, then register for the subject CPA Assist. It's really that easy!